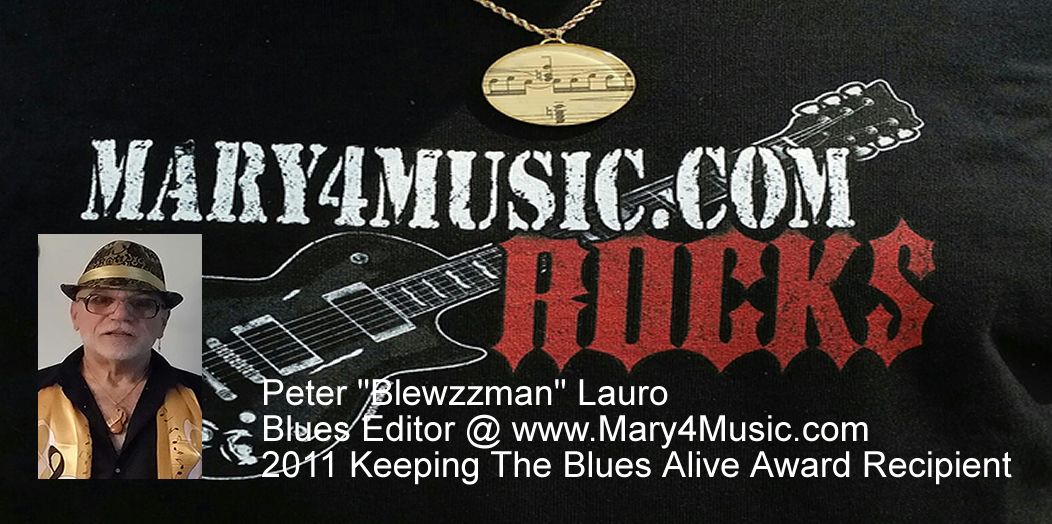 The DogTown Blues Band
"Search No More"
RVL Music
Peter "Blewzzman" Lauro © August 2021
"Search No More" is the The DogTown Blues Band's third release. Members of the band include: Bandleader Richard Lubovitch on guitar; Kaspar Abbo on vocals; Bill Barrett on chromatic harmonica and vocals; Wayne Peet on organ, piano and keyboards; Trevor Ware on upright bass; and Lance Lee on drums. For this project special guest Marcus Watkins adds his guitars to several tracks.
Of the disc's ten tracks, one is an original of Richard's, one is a standard from the seventies, and eight are classic blues songs. The band's motto is that they like to put a little jazz into their blues and a little blues into their jazz. Reading their impressive and diverse bios, it'll be pretty clear how that came about.
The disc opens with a swingin' rendition of a Percy Mayfield song that literally describes the groove the band is laying down. Yes indeed, The DogTown Blues Band are "Cookin' In Style". Pulling double duty on the track, Bill's doubly impressive with some killer harp blowin' and silky smooth vocals. Now after just the first time ever hearing him play and sing, I'm not quite yet ready to compare him to a Kim Wilson, but Bill sure did make Kim come to mind. In the meantime, the rest of the band's nailing a rhythm that's sure to fill the dance floor. Excellent opening track.
On this particular track, I'm going to take the liberty to say that the band put a little rock 'n' roll into their blues. With Bill back at it on harp and vocals - but at a much more rapid pace, Lance, Trevor, and Wayne are lighting it up on the drums, bass, and organ, with one heck of a rugged rhythm. When I tell you this one was a smoker, "You Better Believe It" (Paul Gayten).
So when your one sheet tells me that you've got some 'classic blues' songs on your disc, you better show me some legendary names. Okay! Willie Dixon works. On this very well done rendition of Willie's "You Shook Me", the guys prove they're capable of getting way down and very dirty with some classic slow blues. Starting things off just as these kind of songs call for, Richard opens it up with a full minute long scorching blues guitar intro that I never wanted to end. As it did, Kaspar came in singing his heart out with a gut wrenching, emotional vocal performance that - with the help of Wayne's hypnotizing organ vibe - raised the song to hymn level. On top of all that... well actually, behind all that, Trevor and Lance are right where they should be - locked into a quite tight rhythm groove.
Richard's original track is an instrumental titled "All Night", and right here is where you'll get a big dose of that 'little bit of jazz'. With percussion and rhythm abound, Richard stands right in the middle of it all and puts on a dazzling guitar performance.
The title track, "Search No More", comes to us from the pen of the legendary Jimmy "Louisiana" Dotson (if you want to read a who's who list of blues royalty, check out some of the giants he's played with...but not now, later). Now you already know the song's not his, but I've got to tell you, Kaspar owned it on this vocal performance. Reeking of sincerity and emotion, when I heard him sing... "If you need someone to love you, with all his heart and soul. If you want love and understanding, to be yours to have and to hold. Search no more my little darling, 'cause I'll be yours, oh yes I'll be yours"...my heart melted and I was wishing I had a sister to introduce him to. Equally powerful was the instrumentation; with Lance being the star, a profound drum led rhythm and special guest Marcus, proving why he deserved being asked to take the lead on this one, with blistering blues guitar licks; everything came so perfectly together.
I have never done a review of an album that contained an old school R&B style blues song without saying something about that song, and since I'm crazy about them, I most likely never will. That said, this one is called "Glory Of Love" (Billy Hill), and depending on how old you are, you may have heard it covered by dozens of artists. As a matter of fact, if you're real old you may remember Benny Goodman having a number one hit with it back in 1936. My philosophy on covering monumental songs like this is plain and simple - do them justice or just don't do them. DogTown Blues Band, with a masterful vocal performance by Kaspar and an immaculate piano performance by Wayne, thank you for nailing it.
Other tracks on this excellent release include: "River's Invitation" (Percy Mayfield); "Miss Ann" (Johnson/Penniman); "I Wonder" (Cecil Grant); and the Doobie Brothers smash hit, "Long Train Coming" (Tom Johnston).
To find out more about The DogTown Blues Band just go to - www.thedogtownbluesband.com - and should you have not yet received your copy of "Search No More" for airplay, just email Richard Lubovitch at - rlubovitch@hotmail.com. Wherever you go and whomever you talk to, please tell them that the Blewzzman sent you.
 
Peter "Blewzzman" Lauro
Blues Editor @ www.Mary4Music.com
2011 Keeping The Blues Alive Award Recipient

From Chris Spector
8/27/21
DOGTOWN BLUES BAND/Search No More: The resumes of this crew are impeccable and it shows as they turn up the heat on this collection of classic blues, done their way. Hot throughout, Percy Mayfield, Bill Hill and others are given the kind of remembrance that really will make people remember them. More than a bunch having a good time with good intentions, this is a first class show. You don't have to be an over age frat boy to love it.
(RVL)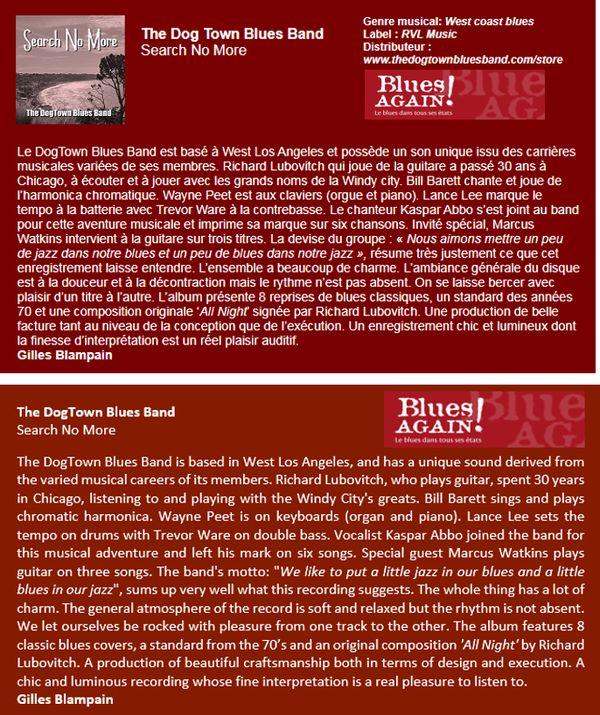 Review From Eric Campfens Barn Owl Blues Netherlands
The Los Angeles native is formed by a group of experienced musicians, all from different backgrounds. This combination makes for a versatile band and the CD they have now released shows that perfectly. The band consists of guitarist Richard Lubovitch, who also produced, Wayne Peet (keyboards), Bill Barrett (harmonica), Kaspar Abbo (vocals), Lance Lee (drums), Trevor Ware (upright bass). On a number of songs they are joined by Marcus Watkins, who plays a multitude of guitars  
"Search No More" is the band's third CD. The album contains eight blues classics, one adaptation of a seventies classic and a song written by Lubovitch. With blues classics, people quickly think of chewed-up versions of songs that have been performed hundreds of times. The diversity of musicians with all different backgrounds, however, ensures a great variation in style. The basis is unmistakably the blues with influences from jazz, swing, Latin and rock. That becomes immediately clear with the opener, Percy Mayfield's "Cooking In Style", which here takes on a blues look partly due to the use of the harmonica. Jimmy Dotson's "Search No More" is a pure blues ballad with beautiful vocals by Abbo and a beautiful solo by Marcus Watkins. "All Night", the only original here, shows Lubovitch's jazz background. A special mention here deserves "Long Train Coming" by Tom Johnston (Doobie Brothers), the only odd one out, of which the gentlemen make their own beautiful version. A fine album.
Website: www.thedogtownbluesband.com